2023/4 Gold Coast Program
Trauma Intensive Training (Blended Learning)

A blended learning intensive exploring a range of safe trauma therapy approaches using a stabilisation based therapy framework! This program provides attendees with a range of clinical resources to safely process trauma memories and overwhelming distress.
Stabilisation Based Therapy
is the underlining framework of this intensive training program which was developed by Dr. Peter King in 2013. Dr. Peter King, who received mentoring and development through Babette Rothschild (2014-2018) and Marsha Linehan's Behavioral Tech LLC (2003-2008), is the facilitator of this six month blended learning program.
Somatic Trauma Therapy (STT)
is the trauma framing based approach of this intensive training program. SBT was developed by Babette Rothschild in the 2000's.
Dialectical Behaviour Therapy (DBT)
is the skill acquisition based approach of this training program. DBT was developed by Professor Marsha Linehan in the 1980s.
What's included?
This blended learning program provides Psychologists, Psychotherapists, Counsellors and other mental health professionals with an intensive overview of safe trauma therapy approaches. The program explores a range of safe trauma therapy approaches including Stabilisation Based Therapy, Somatic Trauma Therapy, Dialectical Behaviour Therapy, Radically Open DBT, Mindfulness and exposure based approaches to trauma therapy.
Weekend Intensives to Refine Clinical Practice
The best way to develop and expand on your safe trauma therapy approach is to practice! The weekend intensives have been developed to support mental health professionals practice a range of techniques and strategies in a safe collegial environment. We have reduced our intensive training programs from 24 to 12 participants to ensure even more individual support during our intensive weekends!

Gold Coast Intensive Weekends
1. Fri 20th, Sat 21st & Sun 22nd Nov 2023
2. Fri 23rd, Sat 24th & Sun 25th Feb 2024
3. Fri 19th, Sat 20th & Sun 21st Apr 2024
Trauma Informed DBT for Stabilisation
Why DBT training in the trauma intensive? Self-control, the ability to inhibit competing urges, impulses, or behaviours is highly valued by most societies. Excessive under-control has been linked to impulsivity, erratic interpersonal functioning, poor distress tolerance, maladaptive coping, extreme emotional expressions, and difficult-to-treat mental health problems, such as borderline personality disorder, binge eating disorders, bipolar and depression in later years. Many of these traits and diagnostic categories are all too frequent in populations with trauma histories!
Explore three processing and insight strategies
When someone advises a clinician that they would like to process their trauma what do you offer as a therapist? The first question we like to ask is, What would you like the outcome to be after processing your trauma? Unfortunately, this is not always a question asked by clinicians. As therapists we all have different skills, experience and training. This intensive training explores a minimum of three process and insight strategies and acknowledges many more!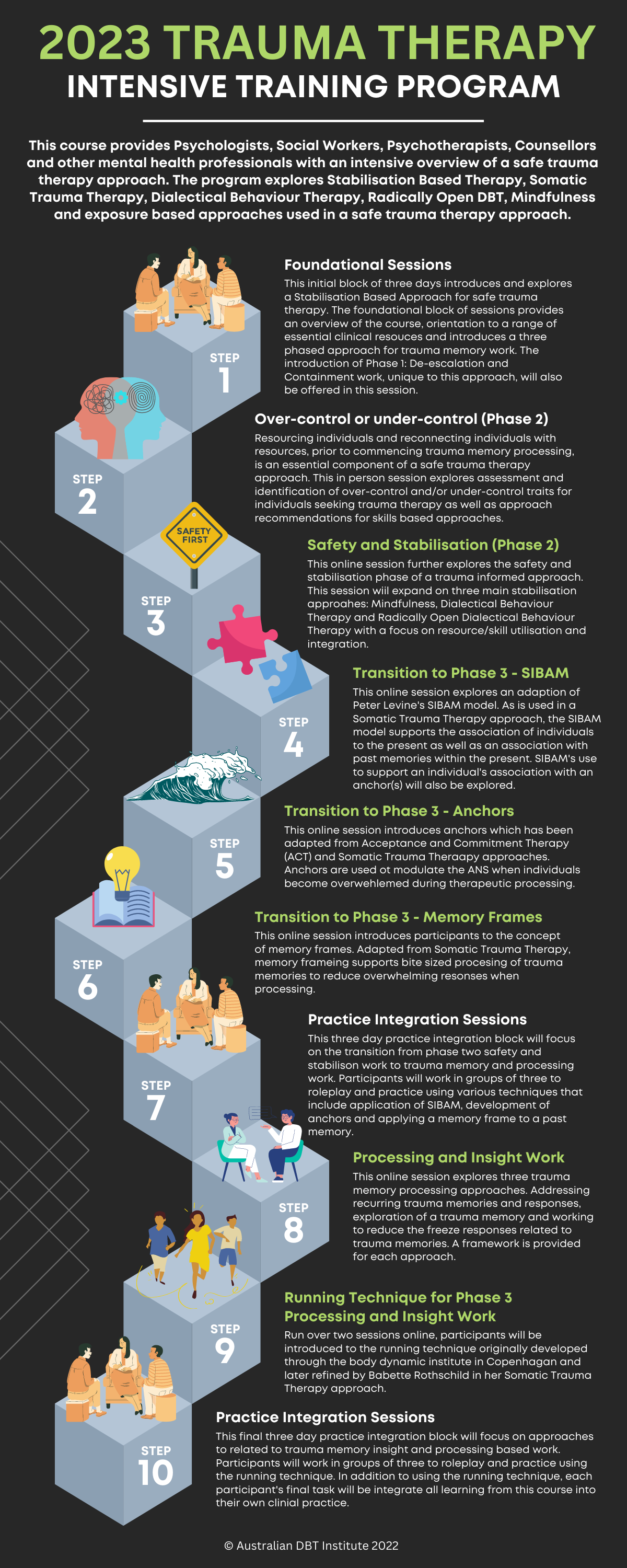 2023 Gold Coast Blended Learning Program Schedule
This program offers a blending learning format with access to online teaching materials, LIVE Zoom Sessions and Intensive Weekend Practice Intensives.
On Registration: First Online Content Made Available

Friday 20th until Sunday 22nd November 2023: First Weekend Intensive

Saturday 3rd February 2024: Zoom Session (3 hours)
Saturday 10th February 2024: Zoom Session (3 hours)
Saturday 17th February 2024: Zoom Session (3 hours)

Friday 23rd until Sunday 25th February 2024: Second Weekend Intensive

Saturday 6th April 2024: Zoom Session (3 hours)
Saturday 13th April 2024: Zoom Session (3 hours)

Friday 19th until Sunday 21st April 2023: Final Weekend Intensive
— Our great offer
2023/4 (GC) Trauma Intensive
Participants receive access to a range of resources including DBT!
\Learnworlds\Codeneurons\Pages\ZoneRenderers\CourseCards
Created with